Hi Sumersprkl, welcome to the Adventure Time Wiki! You're receiving this automated message because you made your first contribution to this wiki. Someone will probably see your edit to the File:82px-0,472,0,472-Flame Princess (My Style).png page shortly.
Please take a look at our rules and manual of style to learn about how to correctly create and edit pages on our wiki.
Leave a message on my talk page if I can help with anything! -- A hero boy named Finn (Talk) 02:05, March 1, 2012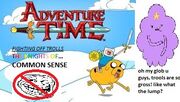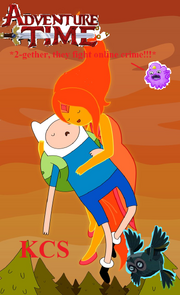 The KCS will do our best to help you gainst this belter and his bad comment ways, also if you need help you should also think about talking to other KCS members Princess Fionna, and Demon from the Nitiosphere. You should also thinnk about joining the KCS Sumpersprkl we would love to have you part of the KCS. :)
Adventure Time Noob 22:47, March 2, 2012 (UTC)Adventure Time Noob
I see all.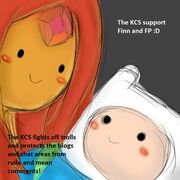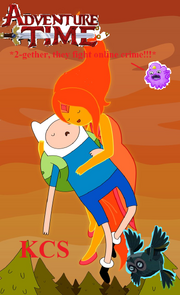 Yes you are offically in the KCS Sumpersprkl, welcome!!! :)
Adventure Time Noob
23:13, March 2, 2012 (UTC)Adventure Time Noob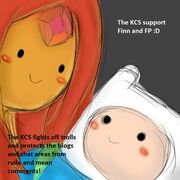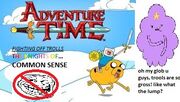 Re: Blog posts
Edit
Hi. If you want any more of your user blogs deleted, let me know (instead of trying to move it.) Regarding blog comments, I don't usually police blog comments, but let me know if there are comments that involve personal insults or threats of violence. Those are against the rules and may result in warnings being issued or banning. I will also investigate A. Belt. Thanks. --Cornprone 09:36, March 3, 2012 (UTC)
corn......please,just....leave austin alone. besides,the "knights" of common shluff STARTED the war,and(i really,REALLY hope you arent takin it offencive) WAR IS WAR. did the germans fear the russians in WWII?
Hell yeah,they did,BUT THEY FOUGHT ON. did castro give up when JFK almost invaded cuba? SHIT NAW. are we,the Anti-Kights Of Sense gonna give up??? HELL-ON MY ASS-NAW.(im a lollipop.

09:42, March 3, 2012 (UTC))
We will stop all trolls! You are the evil ones and we have a right to exist, you do not, you are the trolls we must stop! The war begins and we will defeat you. Screw trying to stop trolls by making them better people, they have shown me that they are incapeable of changing and now they must pay the price. It is truly unfortunate...
Demon from the nightosphere 17:53, March 3, 2012 (UTC)
we will destroy your babies,miss demon schluff! (im a lollipop.

18:34, March 3, 2012 (UTC))
Done some scooping around. It's legit, see: this. It's the sequal to Incendium, and probably supposed to be the first episode when the new season starts. Be quick! Before it get's deleted. Marcaline 10:55, March 13, 2012 (UTC)
Hello, Magical Unicorn Lady!
Edit
I know you're User:Ladyrainicorn10191998. I don't care how many accounts you have, I don't care if you curse, if you are annoying or desperate. It's fine with me if you act all "forever alone" and talk to yourself to get more comments on your blog. It's pathetic, but I'm cool with it.
Just please, for the love of Glob, leave my blogs alone. Don't spam on other people's blogs and put links to your lame blogs everywhere. Just stop it, or everyone will think you're some sad loser. Just write a real cool blog and people will respond to it, trust me. And if they don't, so be it. :) Marcaline 09:34, March 16, 2012 (UTC)
MarshaLine
Edit
Thanks for the heads up, I moved it to the creator's userspace. ƒelinoel ~ (Talk) 15:45, May 17, 2012 (UTC)
I have semi replaced the original content on "MarshaLine."
What you did may seem noble. However, you simply changed someones opinion to your own, and without discussion or contact of the pages owner, who clearly has view on shipping characters. The remarks did not come off as Anti-homosexual pairing, but it did come off as stubborn against same-sex parings in favor of their own pairing, be it any type. -- Bunai82 (talk) 15:21, May 17, 2012 (UTC)
Comment yo! :P Marcaline 09:30, May 19, 2012 (UTC)
Latest Blog
Edit
I can answer a few questions for you from your previous blog,
Will people under thirteen ever come back? When?
They can return once they turn 13.
Who are the users who are banned?
Well the ones i know so far are LK, Austin, Alice, and AK1
How is it possible to shut down our blogs completly?
Admins and Wikia staff have the power to do that.
Sorry if I'm not much help, but I only answered this so wouldn't talk about this anymore. Mr. Rhea says this is a distraction. If you want more info, give him a message.

16:10, May 25, 2012 (UTC)
HISSSSSSS!
You have broken one of our rules here. Please refrain from continuing to do so.


Please read and follow these set of rules that everyone is expected to follow when interacting with other users on this wiki. Behavior that violates this will not be tolerated. Thank you, and please stray away from this sort of behavior in the future.
If you do not stop making blogs like User_blog:Sumersprkl/I_WILL_NOT_BE_SILENCED!!!! and User_blog:Sumersprkl/I_WILL_NOT_BE_SILENCED!!!!_2, I'm going to have to ban you. Please refer: "To the admins - please do not re-open this discussion."

SaberSworn

16:20, May 25, 2012 (UTC)
Re:What rule did I break?
Edit
How does making a blog like that count as against the rules? There were no insults, no cussing, no anything at all that wasn't allowed, all I did was make a blog asking the questions everyone wants awnsers to, then re-make it when it was shut down for no reason. I don't think that's counted as excessive. Sumersprkl 16:30, May 25, 2012 (UTC)
Brandon Rhea specifically told us to stop talking about this, and there's a reason for it. We don't need people, especially underaged people, divulging information about themselves and it's just a distraction for the wiki anyway. You stated that you were "Gonna keep making this till my questions are awnsered." We've told you multiple times already and you hadn't stopped. So just stop making the blogs. It's as easy as that.

Saber

Sworn

16:34, May 25, 2012 (UTC)
Last time I checked, that wasn't a rule. And I checked only a few minutes ago.
Sumersprkl 16:39, May 25, 2012 (UTC)
I certainly don't expect to be babysitting the recent activity page for hours, closing all your blogs and taking absolutely no action against you. Anyway, creating the same exact blog over and over again can be constituted as spam. Also, continuously disobeying an admin when he or she tells you to stop disruptive behavior isn't going to be tolerated.

Saber

Sworn

16:44, May 25, 2012 (UTC)

How was I being disruptive? I was just trying to get awnsers to questions everyone is asking. You know what? Fine. I'll stop making the blogs. But I'll start beliving what everyone on the wiki says about you.
Sumersprkl 16:56, May 25, 2012 (UTC)

This is why you were being disruptive. I've linked it about 3 times and you still haven't read it yet? You should read it; It will clear up a lot of your confusion about your actions :) Thank you for stopping too.

Saber

Sworn

17:00, May 25, 2012 (UTC)
I saw it before you linked it. I was still mad because Alice the Wiz was one of my best friends on this wiki, and was an admin on one of mine. I just wanted to know the awnsers to those questions for her sake, and for all the other people who had been blocked.
Sumersprkl 17:10, May 25, 2012 (UTC)
I am sorry I got involved with that guy who is closing the blogs about the underaged people. If I would have never mentioned this wiki to the staff we would still have those blogs. M1870 03:29, May 27, 2012 (UTC)
Using emotes in blogs
Edit
I noticed that your test didn't work. Here's an example of exactly what you'd type. I forgot to include that to get the size that appears in chat, you'll need to add |19px to the end.
For example:
[[File:IceKingChat.png|19px]] [[File:MLeemote.gif|19px]]
becomes

Hope that helps.

Flame Prince Finn

17:37, June 14, 2012 (UTC)
Important update for you family tree
Edit
Yayz! I'm a grandmother!

HATERS gonna Hate... U mad?

00:54, June 24, 2012 (UTC)
Re: Once Apon a Time
Edit
WTF WHY DID HE DO THAT!??! Why didn't he just bring back his son!? x.x
I guess with magic he can bring back his son but come on. Sigh. ƒelinoel ~ (Talk) 15:56, June 27, 2012 (UTC)
That blog
Edit
I realize it doesn't seem right but I don't think there's much I can do about the comments there. I am really unsure how to handle that situation, and disabling comments over it seems inappropriate without the authors consent. If your friend is the creator of the blog and wants it closed, I can do that - but I can't just censor any given comment that has any negative meaning at all. What do you think?


Flame Prince Finn

22:00, August 15, 2012 (UTC)
Re: candidates
Edit
You wouldn't get banned over one thing. ƒelinoel ~ (Talk) 13:37, August 23, 2012 (UTC)
hey there...
Edit
your drawing request will be done tomorrow .. i just need to color it... sorry that it took so long becuz im inquiring myself for college and so far only 2 university accept me...so i hoped you can wait and ill upload it the first thing in the morning... P.S i love what you draw to my cousin dead cat if you remember the blog so il be honored to draw you as glameow
Shake Those Lumps psst.. you can click the gif too 19:43, November 27, 2012 (UTC)

Hey there its me MEGA .... the reason why i upload it late its becuz im not proud of it... so here you go .... anyways ill make it up to you ill draw you as an anime if you want...just reply to my talk page OK ...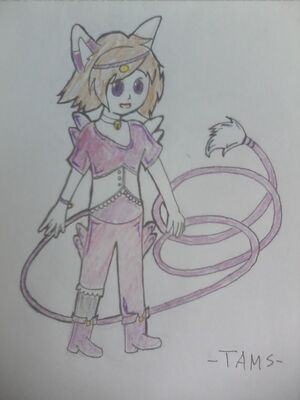 Hey, old friend that's not old!
Edit
Hey Sumesprkl(did I spell that right?)! Do you remember your blog "I will try to draw"? I've finally figured out how to upload pics of my drawings on the wiki via scanner! If you want to see some, leave a comment on my talk page.ICWienerblammo (talk) 19:35, January 3, 2013 (UTC)
But wait, there's more!
Edit
Hey,  read my last message b4 u read this one.
Got it? Okay. Remember how I said I know how to upload my pics on the internet? Well, since you're one of my first friends and the reason I made an account, I want to draw you one or two! Just leave a request on my talk, but please be patient. I get side-tracked. Thanks! ICWienerblammo (talk) 19:40, January 3, 2013 (UTC)