Welcome
Hi, welcome to Adventure Time with Finn and Jake Wiki! Thanks for your edit to the Scorpions page.
Please leave a message on my talk page if I can help with anything! -- Cornprone (Talk) 22:23, April 12, 2011
Your recent edits
Hi. I just wanted to let you know there are a few things you've done that do not really go with our policies on the wiki. You moved Maze to Menacing Maze. Why? Was name ever used on the show or from an official source? Also, please do not add categories like "Season 1" to character pages. Those categories are only for episodes. Also, I've removed the article you created called "Wastelands." It was never given an official name on the show, and that location could easily be the Bad Lands or desert, which already have their own pages. Also, I'm not sure why you added "Thunder Kingdom" to the PlacesNav template, but I've never heard of it before. Anyway, please those things in mind before adding things to the wiki. Thanks. --Cornprone 23:52, May 14, 2011 (UTC)
Regarding Wastelands, it's just that we're hesitant to make new pages about things if we don't know they are. That location was never officially named in the show, it's not really clear what it should be called, and there's no proof it isn't one of those other areas. So I'd rather not have a made-up name. --Cornprone 09:50, May 15, 2011 (UTC)

Hi. In the past, we decided that Category:Heroes should not exist. So please do not add it to pages. Thank you. --Cornprone 01:08, May 16, 2011 (UTC)

Hi. I'm going to delete some of the articles you created about candy people. Here's why. First, many of the names used are fan fiction. Somebody added them to the Candy People article a few weeks ago, and unfortunately I did not notice and delete them until now. Second, I think we should only make separate articles about individual candy people if they are featured prominently or did something interesting. Thanks for understanding. --Cornprone 00:03, May 17, 2011 (UTC)

Also I'd like to remind you again: Do not put "Category:Season 1" on anything. It's only for episode pages. --Cornprone 00:16, May 17, 2011 (UTC)
Hi, Zanydragon. I'm not sure why you replaced the Storytelling title card with a smaller, worse quality version of the image, but there is no need to do that. Thank you. --Cornprone 02:30, May 19, 2011 (UTC)
Sorry, now I understand you did that because someone messed up the old image. It's been fixed now. --Cornprone 02:38, May 19, 2011 (UTC)
"Bleeding Me" ~Metallica
Hey man, just thought I'd let you know that I put your page "Wizard Vison" up for deletion because an article called "Wizard Eyes" already exists that covers the same thing. Just thought I'd letcha know so you wouldn't be suprised when it gets deleted. Bankaibuddy15 22:28, May 20, 2011 (UTC)Bankaibuddy15
Oh, and by the way, the category "Powers" does not exist, so don't add that to anything anymore. See ya. Bankaibuddy15 22:35, May 20, 2011 (UTC)Bankaibuddy15
Recent Edits
Please stop adding redlinks to pages(such as linking the game "Dodge Socks" on the "Slumber Party Panic" page), as they are quite useless. Frank the Human Boy 02:40, May 25, 2011 (UTC)
Re: How to make screenshots
What video player do you use? If you use VLC Player there is a built in screenshot feature under the Video tab. felinoel ~ (Talk) 00:50, June 3, 2011 (UTC)
Spamming for badges
Hi. I noticed on July 7 you went to several pages with large galleries like Princess Bubblegum, Finn, and Jake, and you deleted, then immediately put back the galleries. You obviously did this to get badges. If you didn't, then give me a better explanation. Anyway, if you continue to abuse the badge system, the only recourse is banning you. I don't really want to do that, so please quit it. --Cornprone 22:00, July 7, 2011 (UTC)
Re: Categories
Hi. To answer your question, we use common sense when determining if a category is needed. We ask if it actually aids navigation. And we want to get rid of vague categories because they attract people who want to spam them onto articles where they don't belong. For example, there used to be a category called "Heroes" that we got rid of. Now Finn, Jake and Billy clearly belong in this category, but then people started putting it on other characters like Tree Trunks, Peppermint Butler, Beemo, Marceline... basically every character friends with the protagonists, even if they had not actually performed a "heroic" act. Anyway, if there is a new category you really think needs to be added, you could start a forum discussion on it. If the community decides it's worthwhile, then you could be sure it won't be deleted after you make it. --Cornprone 22:57, July 18, 2011 (UTC)
Peep
I command you to make me a sandwich!--Chubzhac 06:24, December 10, 2011 (UTC)
About your edit
The transcript pages are going to be updated to a new format to make them uniformed, please do not remove the templates. -- Bunai82 (talk) 17:38, June 1, 2013 (UTC)
Reminder
Talk pages are for discussing improvements to the article. If you continue using talk pages like forums, you will be blocked. —BellamyBug (talk|tribs) 22:26, March 12, 2014 (UTC)
Here. The link to the forum is under the Community tab near the top of the screen. Cheers! —BellamyBug (talk|tribs) 01:08, March 21, 2014 (UTC)
Block
GIMME YOUR SOUL!!

You have been blocked for 1 day. The reason for the block is: Using talk pages like forums.

We told you. Multiple times. Well, now you have been banned. You can continue editing after the block is lifted, but another vandalism offense after this will likely result in a permanent ban. Please read and follow the rules.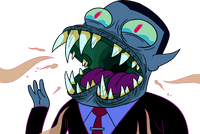 Please try to follow the rules. —
BellamyBug
(
talk
|
tribs
) 01:07, April 23, 2014 (UTC)